Minister
Reverend Carla Van Delen has her heart in the city but is equally comfortable in high top rubber boots covered in mud. Before entering the ministry Carla worked as a restaurant manager and also managed a clothing retail store. Her undergraduate degree is from Carleton University in Sociology/ Anthropology and she holds a Master of Divinity from Queen's Theological College. Carla was ordained into the United Church of Canada in 2007 and has served in a three point charge south of Quebec City and in the Ottawa region for the last ten years. Carla and her husband Bert Weiss live on a farm where they raise chickens and look after their five, four legged furry friends.
Her office hours are Monday till Thursday, 10:00 am – 1:00 pm, afternoons and evenings by appointment.
Senior Choir Director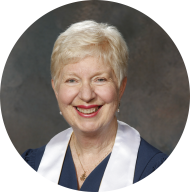 Barbara Ackison
Senior Choir Director
Barbara Ackison
Music has always been an important part of Barbara's life. As a girl growing up in the village of Baltimore, Ontario, she sang in the choir at Baltimore United Church. While attending High School in the nearby town of Cobourg, she played clarinet in the school band, sang in the school choir and sang with a small folk group. As a nursing student at Kingston General Hospital, she began to gain experience as a choir leader by directing the student nursing choir.
Barbara joined the BUC Choir in 1983 and has been directing the choir since 2000. Before that she directed the Junior choir, helped found and lead the CGIT group, directed the Intermediate Girls Choir, and directed two musicals at BUC.
Barbara studied voice for several years and has sung in a variety of choirs. At present she sings with Cantata Singers of Ottawa and Ewashko Singers.
She very much enjoys spending time with and making worshipful music with the BUC choir family. Music feeds her soul.
New Senior Choir members are always welcome. Barbara can be reached by contacting the Church office.